I must say, I am not an expert on Cristóbal Balenciaga but simply a lifelong lover of classic and vintage fashion. I learned about the Balenciaga in Black exhibition when I received a gorgeous mail advertisement from Kimbell Art Museum. The envelope, printed in black and white with pink accents, featured a woman striking a pose in a lovely black cocktail dress with long black gloves – reminiscent of a vintage fashion magazine. As I quickly opened the mailer and pulled out the flyer, charming sketches of a woman in a voluminous hooded gown pulled me in deeper. A brief overview explained there would be "more than 100 evening gowns, cocktail dresses, coats, and exquisite accessories all made by hand" in "all black" with "adornments of lace, embroidery, and beads".
You see, I collect LBDs (little black dresses) and believe every woman needs at least one. To me, black is a wardrobe staple and a style anchor. Jewelry is my main accessory next to lipstick. Lace and embroidery have been in my wardrobe ever since I was a baby. I also come from a family of women who could sew anything they dreamed. I was so inspired that whenever I could I took elective sewing and fashion design courses. My love for making clothes culminated when I decided to sketch, design, and work with a seamstress to create my wedding gown. Naturally, I was more intrigued when I read Balenciaga was heralded by all other fashion designers as "the couturier's couturier". I knew this meant Balenciaga was the real deal. I'd never been to a fashion exhibition of this magnitude, and I was elated to know it was happening in my metroplex. I planned my visit to Kimbell because I just had to see it with my own eyes!
Upon entrance to the exhibition stands a massive yet intimate black and white headshot of Balenciaga in a reflective pose, as if he's giving permission to enter his creative mind and work. Next, there are a few patterns and test garments, not in unbleached muslin as I'm accustomed to, but in black fabric with contrasting threads for seams, hemlines, and other markings. As I examined the pieces, I understood Balenciaga's rationale for using black test fabric because the dark hue makes it easier to explore, visualize, and achieve the design goals. It was such a mind blowing revelation, so much so, I stood there and studied the pieces for a while!
I eventually moved along the path to a collection of original, meticulous sketches, some with matching photographs of models in Balenciaga's creations. And then, I continued to go around the exhibition to the actual clothing and became uber excited when I spotted designs from the previous sketches and photographs! Rarely do we get the privilege to view a designer's inceptive sketches. Being able to observe and compare those drawings with completed pieces gave insight into the work ethic of Balenciaga and his keen ability to produce what was in his head into a reality. I took my time going back and forth, taking it all in. There was so much to see and so much to learn. One thing's for sure, Balenciaga's eye for fashion design, knowledge of tailoring, and attention to detail are like no designer I've seen!
A fundamental rule my mother taught me about clothing is the quality of construction is most important. She showed me how to thoroughly look over an item, especially the seams, before making a purchase to decide if it's well-crafted or not. That's why I wasn't surprised to discover Balenciaga's mother was a professional seamstress, even to the royals, in their hometown of Getaria, Spain. From a young age, he was a part of her bustling work environment. Around age 12, he became an apprentice and was soon after sponsored by a royal family to go to formal tailoring school in Madrid to hone his skills. His adept ability led him to become a sought after tailor and designer for royal Spanish families as well. He studied historic fashions and submerged himself in all things couture. In his mid-twenties, he opened his own boutique but war in his country forced him to close its doors. He moved to Paris and opened his couture house, making his mark on fashion forever. Balenciaga was one of the few couturiers who could conceptualize, design, sketch, cut, and sew pieces by hand. His notable works were created from the late 1930s to 1960s.
"Balenciaga had a very special relationship to black. Balenciaga chose this colour to highlight the structure and volumes of his garments."

VéRONIQUE BELLOIR, curator at PALAIS GALLIERA
FROM BEHIND THE SEAMS OF MANNEQUIN DRESSING
Balenciaga's manipulation of black fabric is imaginative and inspiring. He used the finest wool, silk, lace, velvet, fur, and other materials to sculpt pioneering shapes and forms. He even collaborated with a textile designer to create a fabric made for him called Gazar, known for its light, transparent, stiff, and moldable attributes. He intentionally included elements to reflect his Spanish Basque culture as he often used capes, bolero style jackets, and flamenco inspired skirts. He redefined the silhouettes of his time with his abstract to billowing to opulent masterpieces.
Balenciaga focused on structure, volume, drape, contour, contrast, and transparency of black fabrics and materials, at times paired with accents of color, fanciful hats, and custom jewelry. The displays at Balenciaga in Black are artfully separated by the focal points of Balenciaga's design strategies. Many of the exhibition garments can only be seen from one or two sides, highlighting a special feature of construction. Other pieces are placed for full walkaround. Atelier quality dressmaker mannequins are used for every curated piece since the designs had been handmade originally for a specific model's body type. This precise detail truly bring the designs to life!
Balenciaga in Black is a master class in the art of timeless fashion design.
I fell in love with Balenciaga's simple seams, shoulder lines, and rounded curve collars set slightly away from the neck. I adored how he designed sleeve lengths at a height to show off jewelry. The use of whimsical buttons, luscious furs, and satin ribbons complemented his garments in a chic way. Being a vintage fashion lover, I couldn't help but see the clothing through the lens of "What would I wear from Balenciaga in Black?" Take a look at my front-runners.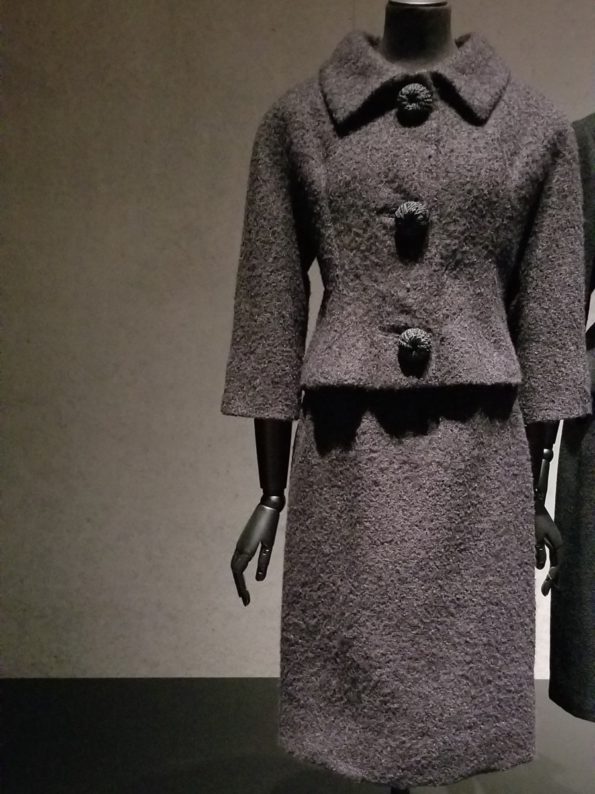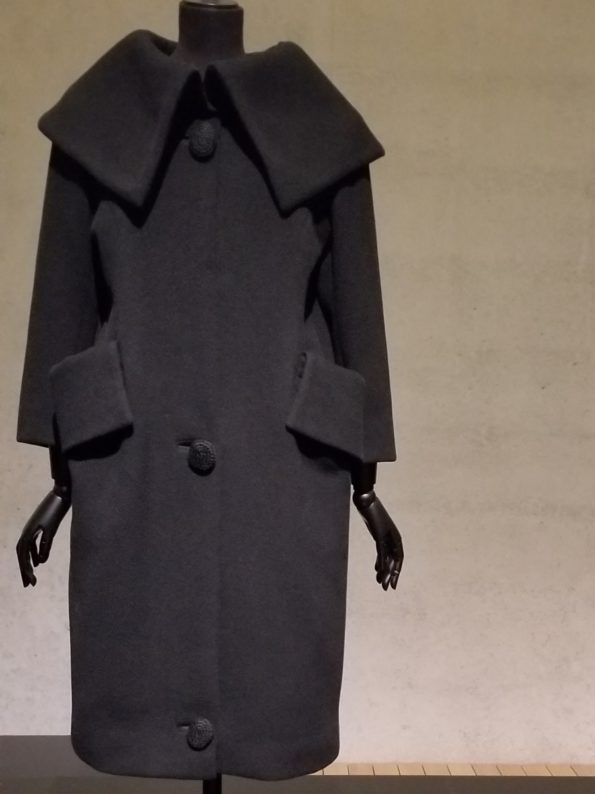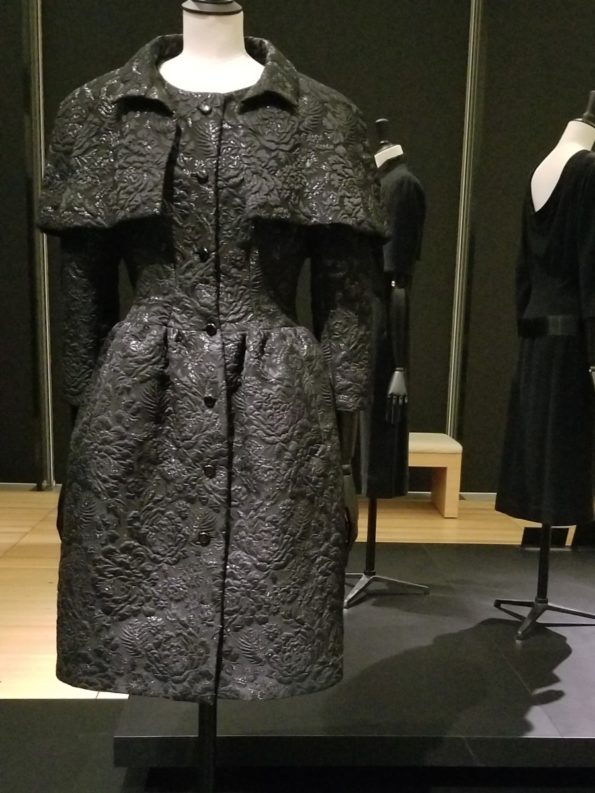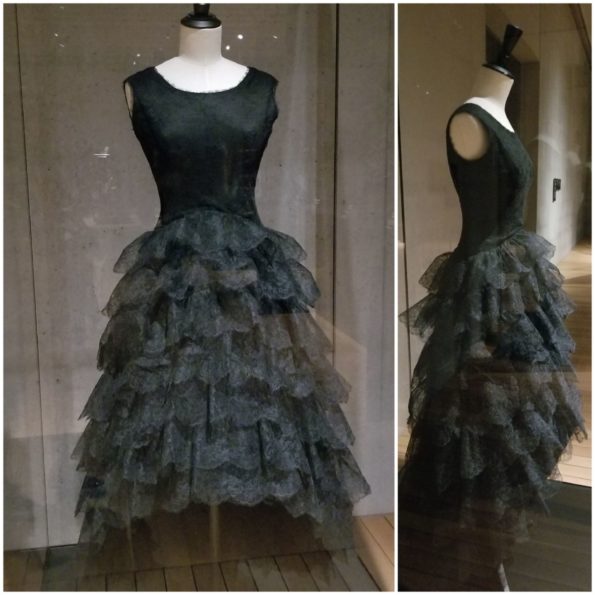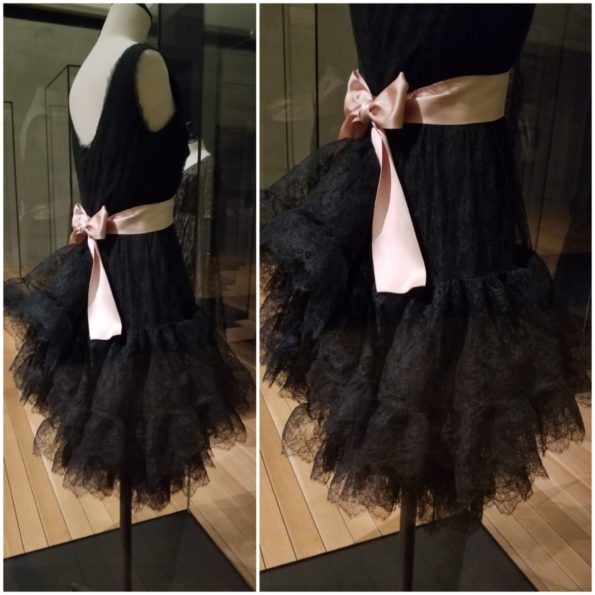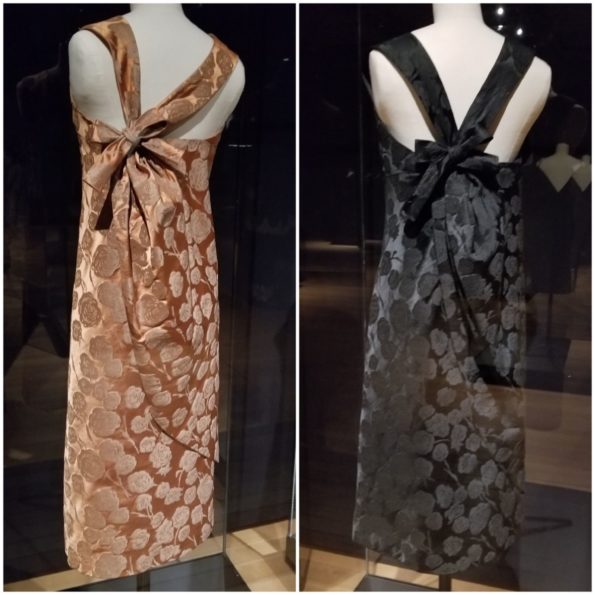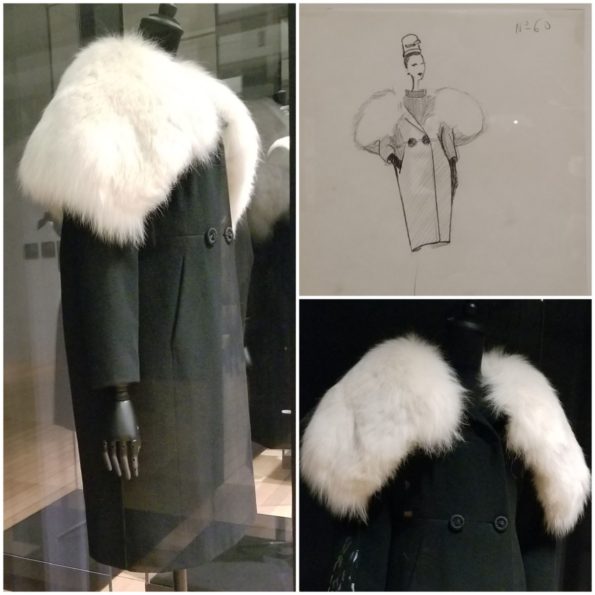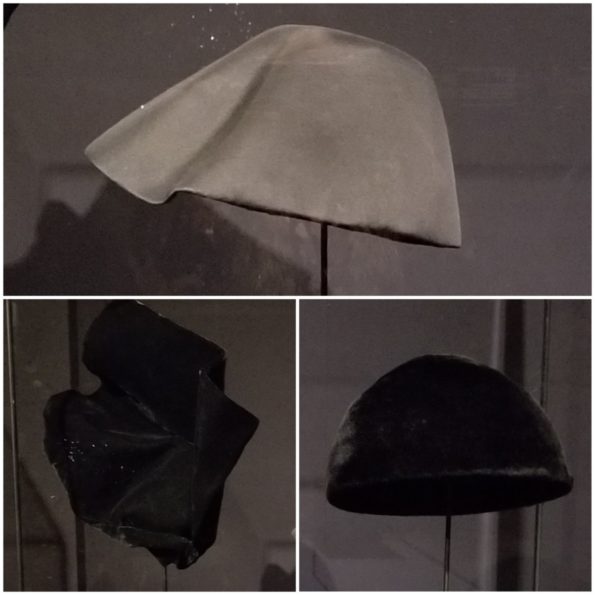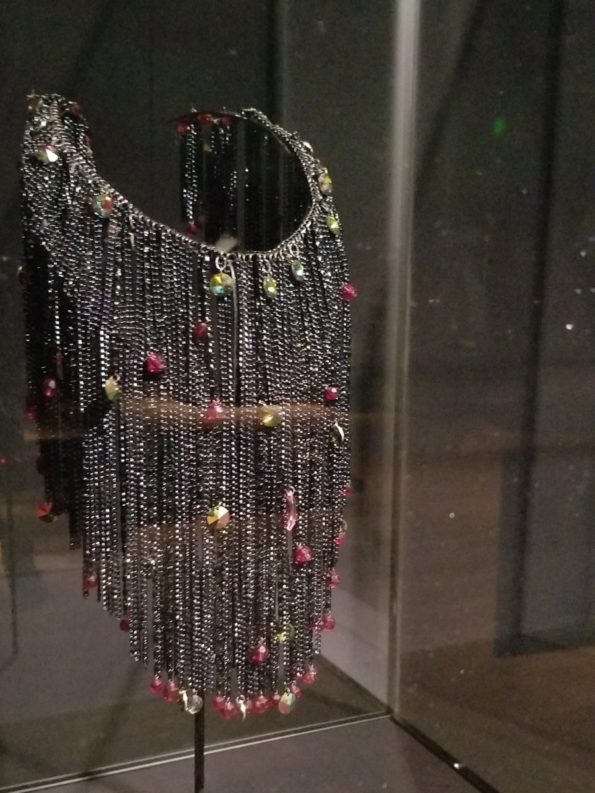 Balenciaga in Black is a master class in the art of timeless fashion design. What a pleasure to see and study the brilliance up close! Hats off to the curators and organizers for producing an astounding experience. Thanks to Kimbell Art Museum for the impeccable mailer that, at first glance, drew me in and embodied the essence of this fashion arts experience. And special thanks to Cristóbal Balenciaga for helping us to behold the myriad expressions of black, and furthermore, the rewarding commitment to the art of timeless design!
Now that I've gone to my first official fashion exhibition, I'm researching upcoming opportunities nearby and around the world. So stay tuned for my next fashion adventure. And if you hear something, let me know. Meanwhile, I think I'll get out the sketchpad because I'm deeply inspired!
Balenciaga in Black at the Kimbell Art Museum in Fort Worth, Texas runs through January 6, 2019. For more information about the exhibition and tickets, visit www.kimbell.org. The exhibition is organized by the Palais Galliera, Fashion Museum of the City of Paris, Paris Musées.